2020 Mad Dog 2 Fly Report and Results
Sunday September 13th saw 10 teams of 2 fly fisherman each descend upon the waters of Central Vermont for a little competition – the second annual Mad Dog Two Fly. The goal was to see which team could catch, photograph, and release the largest 6 trout over the course of the day. By 3:30 it became clear that Chunky Speedman with 92.5 points, the team of Tom Getz and Matt Getz, were this year's winners and will have their names added to the coveted Old Wicker Creel!
Full Report and Images Click Here…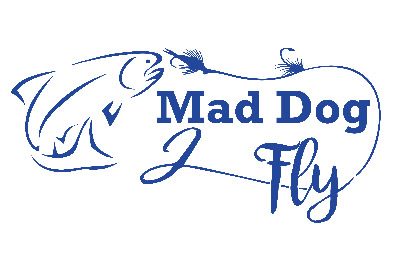 2020 Mad Dog 2 Fly
The second annual Mad Dog 2 Fly Tournament will be held on Sunday September 13th.
The format will be similar to 2019 and once again will be run out of the Fy Rod Shop. Click here for more details.
When: Sunday 9/13/2020
What: A dry/dropper fly fishing catch and release tournament – same pattern, color and size flies must be used all day
Where: The Winooski River and its tributaries (excluding the trophy stretch in Waterbury)
Who: Teams of 2 – limited to 20 teams
Why: All proceeds to benefit the Vermont Trout Camp – http://www.vermonttroutcamp.com/
Cost: $100 per team – registration at https://www.eventbrite.com/e/mad-dog-tu-2-fly-tournament-2020-tickets-92544391767
Contact: Shawn Nailor, nailorvt@gmail.com
The rules of the competition can be found by clicking here.
To enter the competition click here.
2019 Mad Dog 2 Fly
The inaugural Mad Dog 2 Fly tournament was held on Sunday September 15th. We all met at the Fly Rod Shop in Stowe for the pre-fishing meeting, the weather was great and the 13 teams of two received the rules and measuring boards. Everyone then departed for the river and teams had 5 hours to fish the Winooski and it's tributaries to record their best 6 Trout.
All the members of the inaugural Mad Dog 2 Fly tournament.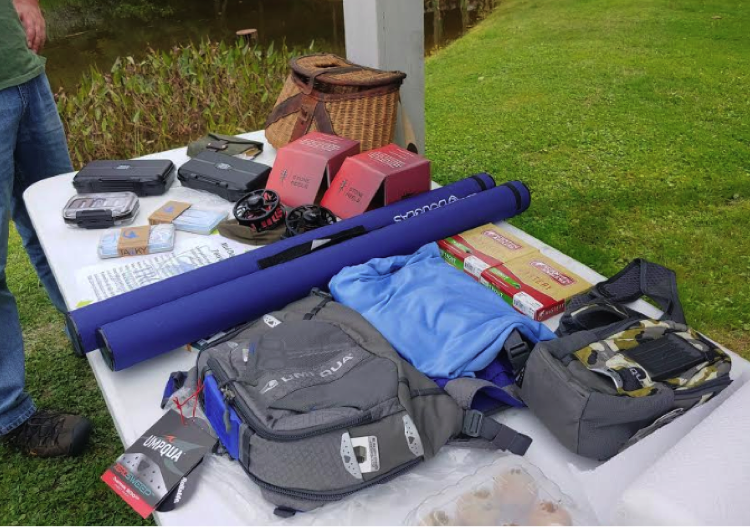 The prizes everyone was competing for!
Thanks to Douglas Outdoors for donating our top team prize of 2 LRS fly rods; Stone Reels for donating our second place prize of 2 – 5/6 weight reels; and The Fly Rod Shop for donating 2 Scientific Angler fly lines.
Umpqua Feather Merchants provided both the first and second place prizes of chest packs for the largest fish and The Fly Rod Shop for providing a tech long sleeve shirt for third place.
The vintage creel was the true trophy (think Stanley Cup of fly fishing) as each year's winning team will have their name added to the creel. The creel will be on display at various TU events (like our banquet). When not on the road you can find it at the Fly Rod Shop in Stowe. Think about adding you name to this coveted prize next year : )
Once the dust settled the finishing order was:
1) Kevin Oxford and John Synott
2) Ben Wilcox and Matt Stedina
3) Jesse Haller and Ben Metcalf
4) Bob Hynes and Colin Cascadden
5) Andrew Peary and Carmine Ricciardi
6) Gary West and Mark Wilde
7) Joey Nailor and Steve Gonyaw
8) Ryan Whitney and Andy Masenas
9) Eric Dessureau and Garrett Nelson
10) Larry Halvorson and Zach Streeter
11) Tom Stickney and Brian Lang
12) Brian Ganley and Tim Traver
13) Tom Hurd and Shawn Nailor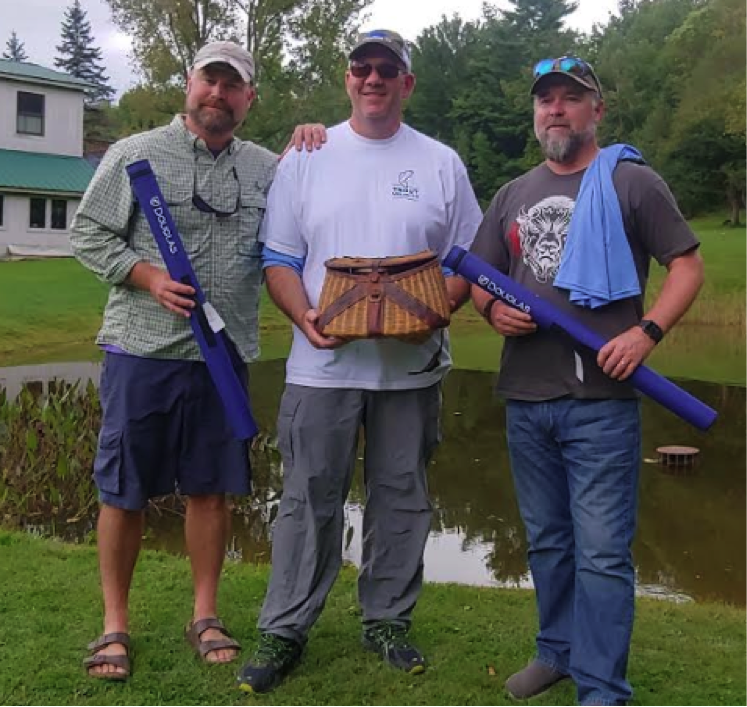 The top team – John Synnott and Kevin Oxford.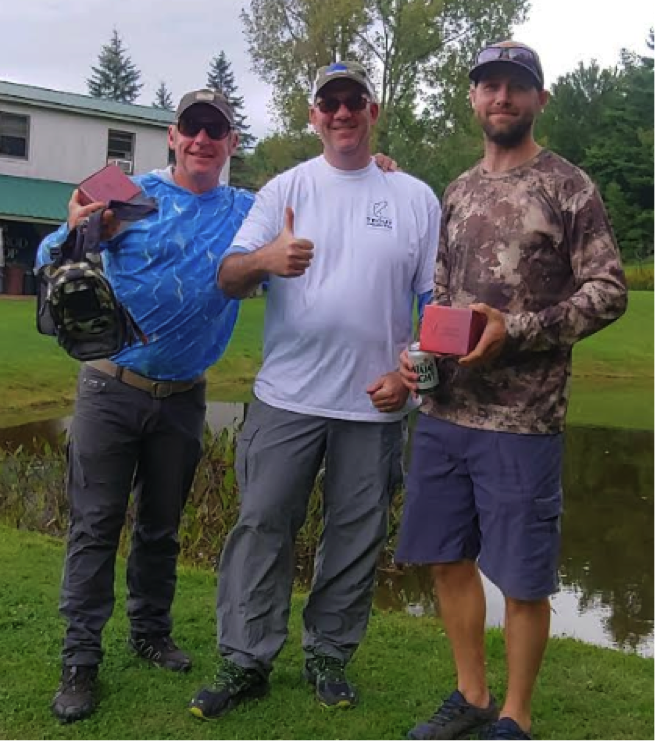 The second place team of Matt Stedina and Ben Wilcox.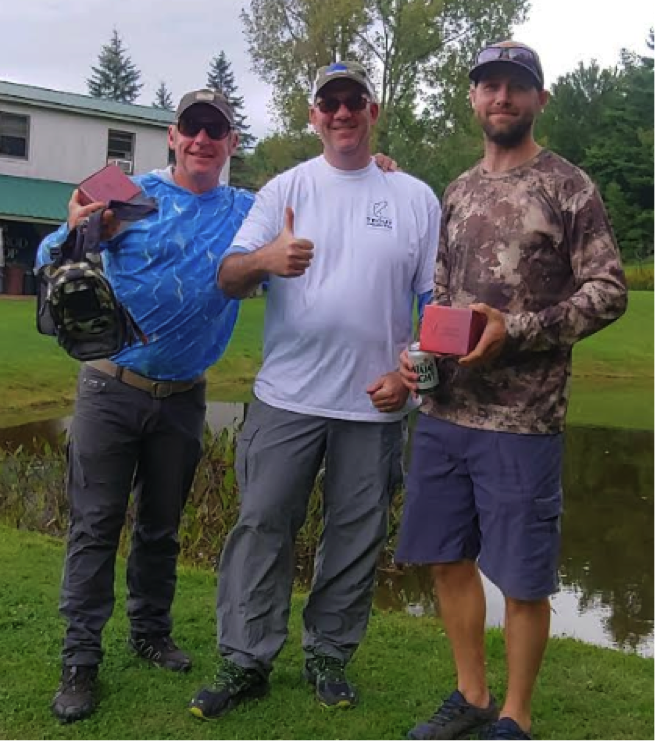 The third place team of Ben Metcalf and Jesse Haller.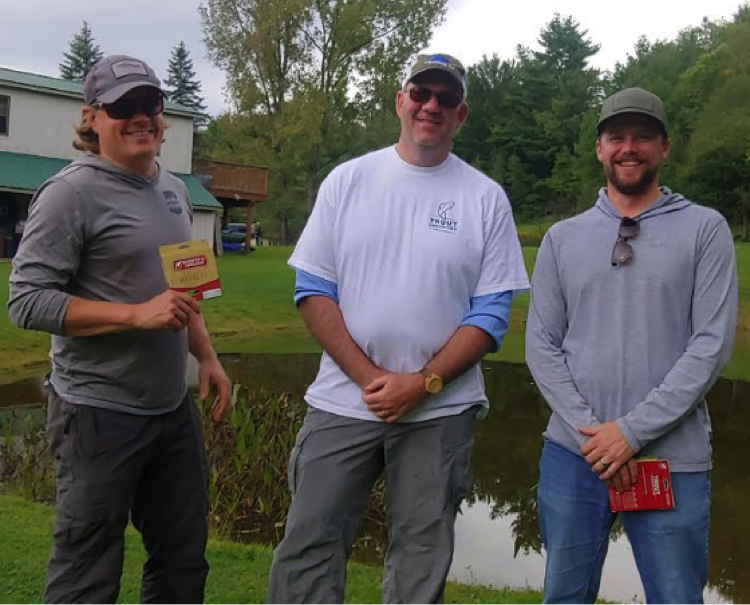 In addition to the team prizes we recognized the top three largest fish. We had a tie at the top with 3 competitors catching 17 inch fish. We resorted to our tie breaker which was the next largest fish caught by each fly fisher. After the tie breaker John Synnott took the top prize followed by Matt Stedina and in third Kevin Oxford.
Top prize for largest fish John Synnott.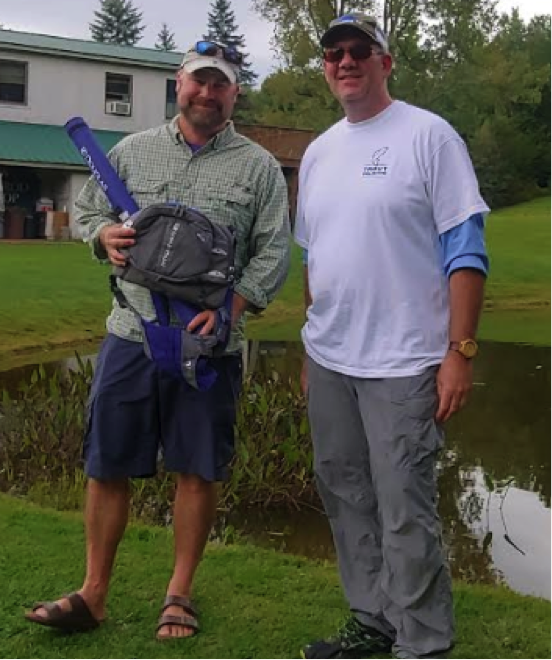 Second prize for largest fish Matt Stedina.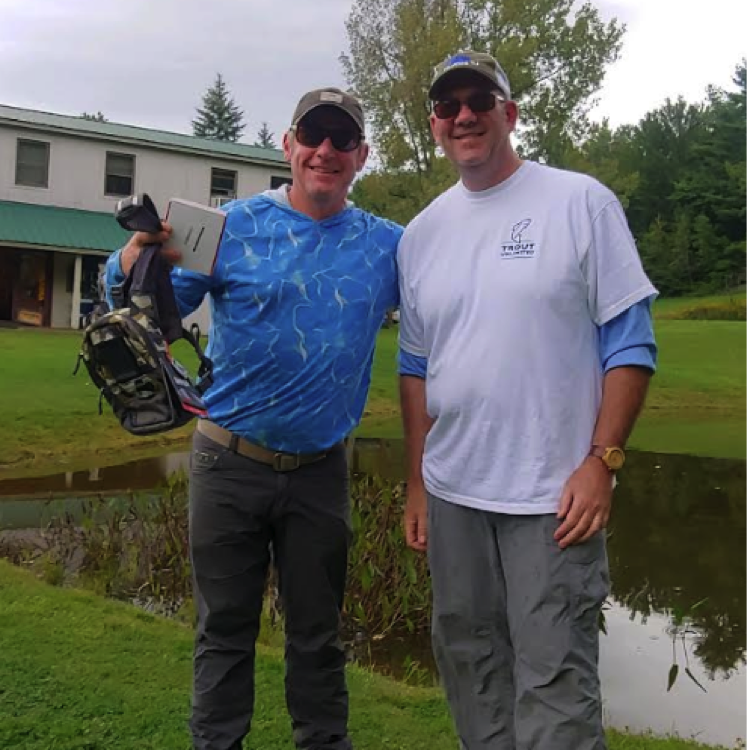 Third prize for largest fish goes to Kevin Oxford.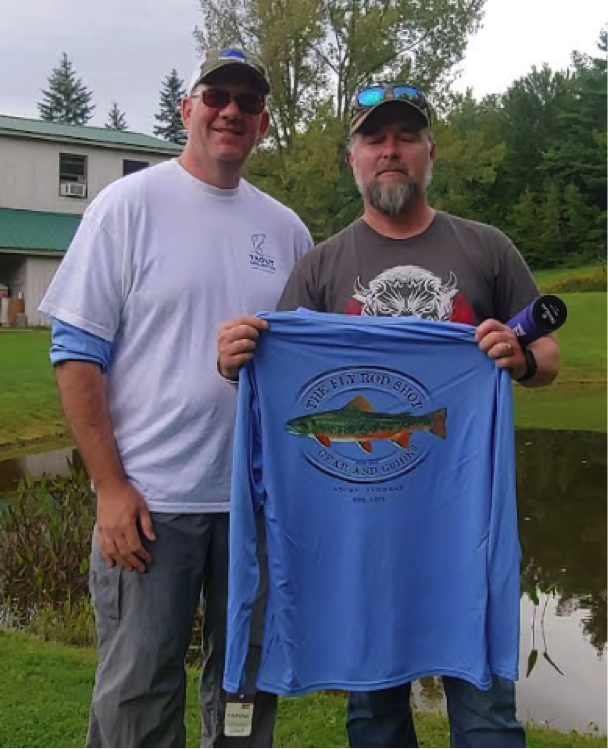 Bonus points were awarded to each team that returned with trash they had picked up that day while fishing. Below is a picture of what was brought in…the Winooski also benefitted from this event!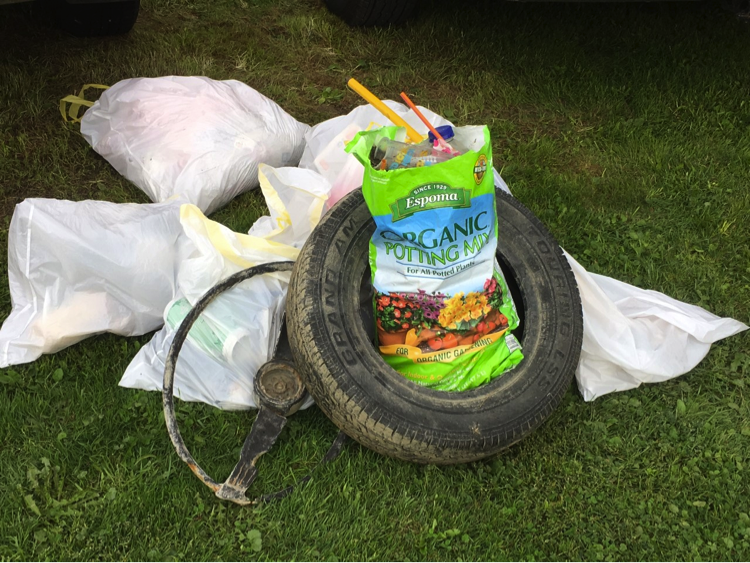 Thanks to The Fly Rod Shop for hosting us. We are already planning next years tournament on the Sunday following The Fly Rod Shop Show in September. See you then!