The MadDog Annual Banquet, Auction and Raffle
Saturday, April 28, Commodores Inn Stowe, VT
Cocktail Hour and Demo 5:00 PM · Dinner 6:30 PM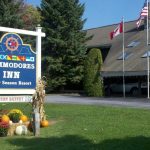 Tickets: $35/person, $60/couple; RSVP required or Purchase below
Purchase Banquet Single Ticket
Purchase Banquet Couples Ticket

Back-and-Better-Than-Ever Casting Competition!
At 4:00 pm, $5 entry fee, Prizes to the winner!
Rod Rodeo – bring two rods of your own and try out others on the Commodore Pond!
This year's featured raffle item:
Pelican Catch 120 NXT Kayak
With $100 Gift Certificate for Gear. Tickets are $20 with a limit of 100.
And
Limited Edition Bamboo Rod 7' 3wt by Bill Lamberson
Tickets are $5 each to Support our Embrace-A-Stream Project in East Burke.
Of course, we'll be auctioning and raffling off a wide assortment of other great items including rods, gear, guided trips, gifts certificates and much more — the proceeds from which form the foundation of our annual budget for the projects we sponsor.
The Commodores Inn, 823 South Main St., Stowe, VT. Rte 100 N on the right as you head into Stowe. The entrance is just after Umiak Outdoor Outfitters on the right.
IMPORTANT! Prepaid reservations REQUIRED: remit by Monday, April 23rd! to Colin Cascadden at cptred@yahoo.com, snail-mail a check to PO Box 892, Montpelier, VT 05601, or use the quick and easy method and pay by credit card on our website MadDogTU.org.
Hope to see you there!