The First MadDog TU Intro to Fly Fishing for Women is launching!
The weekend go May 21-22, 2022 is slated for this new offering and we'll be at Seyon Lodge in Groton, VT!
Click here to register for the event!
The venue is delightful a remote fly fishing only pond along with a 1st class lodge with
wonderful meals!
Cost of the event is $250/person.
Once registered then pay here.

We'll be instructing about gear, entomology(bugs!), and proper fish handling. We'll also do an intro to knots and tying on your own flies and go course fly casting instructions.
All of this and fishing on Seyon Pond for native wild brook trout! Noyes Pond is perhaps the biggest draw at Seyon Lodge, offering Vermont's sole public fly fishing-only pond. The pond offers a remote setting that anglers appreciate as much for its quiet sense of solitude as for the breeding ground it creates for native square tail brook trout.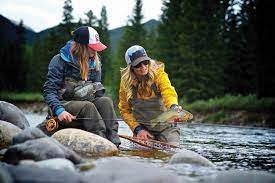 2022 Women's Intro to Fly Fishing Clinic
MadDog Trout Unlimited
May 21-22, 2022

Saturday
8:00 – 8:30am ~ Arrival. Coffee/Tea, Muffins, Yogurt, Fruit.
8:30am ~ Welcome and Introductions
9:00am ~ Intro to GEAR, ENTOMOLOGY and PROPER FISH HANDLING. Questions?
10:30am ~ 15 minute break.
10:45am ~ Intro to knots and tying on your own flies. NOON ~ LUNCH
1:00pm ~ Casting instructions.
2:00pm ~ Lets go fishing!
5:30pm ~ DINNER
6:30pm ~ Conservation
7:00pm ~ Back to the pond for evening fishing.
Sunday
7:00am ~ Breakfast and time for questions and individual instruction. 8:00am ~ Let go fishing!
NOON ~ LUNCH
1:00pm ~ Final words and parting gifts.
The staff coming have great skills and experience and are looking forward to passing along a life long passion for the sport!